V Conferencia Anual NYU Law-UBA Derecho: "Cambio Climático"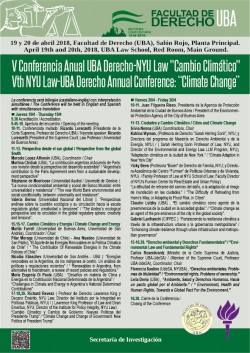 Vth Annual NYU Law-UBA Derecho Annual Conference: "Climate Change"
19 y 20 de abril 2018, Facultad de Derecho (UBA), Salón Rojo, Planta Principal. April 19th and 20th, 2018, UBA Law School, Red Room, Main Ground
La conferencia será bilingüe (castellano-inglés) con interpretación simultánea. The Conference will be held in English and Spanish with simultaneous translation
Programa:
Jueves 19 de abril de 2018 (Thursday 19/4)
9.30 hs. Acreditación. Accreditation.
9.45 a 10 hs. Apertura del encuentro. Opening of the meeting
10 a 11 hs. Conferencista Invitado: Ricardo Lorenzetti (Presidente de la Corte Suprema, Profesor de Derecho UBA). Keynote speaker: Ricardo Lorenzetti (President of the Supreme Court, Law Professor Universidad de Buenos Aires)
11 a 13 hs. Perspectiva desde el sur global. Perspective from the global south.
Marcelo Lopez Alfonsín (UBA), Coordinador, Chair
Martina Chidiak (UBA), "La contribucion argentina al Acuerdo de París: una revisión desde la perspectiva del desarrollo sostenible". "Argentina's contribution to the Paris Agreement seen fron a sustainable development perspective"
Stéphanie de Moerloose (Universidad Austral / Université de Genève): "La nueva condicionalidad ambiental y social del Banco Mundial : entre universalidad y resistencia". "The new World Bank environmental and social conditionality: between universality and resistance".
Valeria Berros (Universidad Nacional del Litoral), "Perspectivas andinas sobre la cuestión ecológica y su circulación hacia la escala regulatoria global: creatividad y tensiones". "The Andes's ecological perspective and its circulation in the global regulatory sphere: creativity and tensions".
15.15 a 17 hs. Cambio Climático y Energía. Climate Change and Energy
Martín Farrell (Universidad de Buenos Aires, Universidad de San Andrés), Coordinador, Chair.
Pilar Moraga (Universidad de Chile), El Aporte de las Energias Renovables en la Politica Climatica de Chile, The Contribution Of Renewable Energies in the Climate Policies of Chile.
Ana Nusdeo (Universidad de San Pablo). "Política climática y energía. Entre la regulación y el mercado". "Climate policy and energy. Between regulation and markets".
Nicolás Eliaschev (Universidad de San Andrés - UBA). "Energías renovables en la Argentina, de los márgenes al centro. Un análisis de políticas y regulaciones recientes". "Renewables in Argentina, from alternative to mainstream, a review of recent policies and regulations".
María Eugenia Di Paola (UBA): "Desafíos en materia de Clima y Energía en la NDC Argentina". Challenges in Climate and Energy in NDC Argentina
17 a 18.30 hs. Richard Revesz (Prpofesor de Derecho Lawrence King y Decano Emérito, NYU Law; Director del Instituto por la Integridad en Políticas Públicas, NYU). (Lawrence King Professor of Law and Dean Emeritus, NYU; Director of the Institute for Policy Integrity, NYU Law):
Cambio Climático y Cambio de Gobierno: Nuevas Politicas del Presidente Trump. Climate Change and Change of Government: New Politics of President Trump
Viernes 20 de abril de 2018 (Friday 20th)
10 a 11 hs. Conferencista Invitado, Keynote speaker: Juan Filgueira Risso, Presidente de la Agencia de Protección Ambiental de la Ciudad de Buenos Aires, President of the Environmental Protection Agency of the City of Buenos Aires
11 a 12.45 hs. Ciudades y Cambio Climático. Cities and Climate Change
Silvia Nonna (UBA) Coordinadora, Chair
Katrina Wyman (Sarah Herring Sorin Professor of Law, NYU; and Director of the Environmental and Energy Law LLM Program, NYU). (Profesora de Derecho "Sarah Herring Sorin", NYU; y Directora del programa de Maestría en Derecho Ambiental y de la Energía, NYU)
Vicky Been (Profesora "Boxer" de Derecho de Familia, NYU; y Directora Académica del Centro "Furman" de Políticas Urbanas y de Vivienda, NYU). Family Professor of Law at NYU School of Law; Faculty Director of NYU's Furman Center for Real Estate and Urban Policy).
Claudio Lutzky (UBA) "El cambio climático como agente de la preeminencia de la ciudad en la sociedad global." Climate change as an agent of the pre-eminence of the city in the global society".
Gabriel Lanfranchi (CIPPEC). "Fortaleciendo la resiliencia climática a través de la infraestructura urbana y la gobernanza metropolitana". "Enhancing climate resilience through urban infrastructure and metropolitan governance".
15 a 16.30 hs. Derecho ambiental y Derechos Fundamentales. Environmental Law and Fundamental Rights
Carlos Rosenkrantz (Ministro de la Corte Suprema de Justicia, Profesor UBA-UdeSA), Coordinador, Chair
Florencia Saulino (UdeSA, NYUBA), "Derechos ambientales. Problemas de titularidad". "Environment rights. Problems of ownership".
Leila Devia (UBA). "Ambiente, Salud y Derechos Humanos. Hacia un pacto global por el Ambiente". "Environment, Health and Human Rights. Towards a Global Pact For the Environment".
16.30 hs. Cierre de la Conferencia. Closing of the Conference
Actividad libre y gratuita.
Más información: secinvestigacion@derecho.uba.ar